The reason you haven't heard much from me lately is because my husband and I traveled to Puerto Rico for a long weekend to celebrate our first wedding anniversary (Oct. 19th). We didn't actually take a honeymoon after our wedding last year, so we were treating this as a sort of anniversary celebration/ belated honeymoon. I'll tell you a little bit about the trip in general and don't worry, I'll throw some horse related things in!
We flew out of Boston on Friday and due to hurricane Gonzalo, which was en route to Bermuda at the time, our flight was delayed a couple hours so that evening after checking into our hotel we really only had time for dinner before I was exhausted and ready to collapse in bed.
Saturday was my husband's birthday and after room service breakfast (YUM. Rarely will we splurge on something like this, but for birthday/ anniversary/ honeymoon, why the heck not) we headed to the northeast tip of the island to Farjado.
TINY ROOM SERVICE KETCHUP. It's adorable.
In Farjado, we went to
La Reserva Natural de las Cabezas de San Juan
(The Heads of San Juan Nature Reserve) where we had a tour of a mangrove swamp, a rocky beach with some very impressive waves, and finally a tour of the second oldest lighthouse in Puerto Rico. Our guide was very nice and I learned quite a lot about mangroves and how they contribute to the ecosystem. The view from the lighthouse was pretty fantastic and we also saw a ginormous iguana (which I wasn't fast enough to get pictures of unfortunately.)
Looking back towards the island from the lighthouse. Laguna Grade is in the foreground.
The nature reserve is also home to Laguna Grande, one of three bio-luminescent bodies of water on the island, and the largest bio-luminescent lagoon. After our tour of the nature preserve, we drove a little south to a bay where we had reservations for a night kayak tour of the lagoon. We bummed around the little beach town next to the bay until it was time to check in with our tour guides and we got some delicious smoothies (which were called frappes there and really confused us for a minute, because in Massachusetts a frappe is basically an extra thick milkshake.)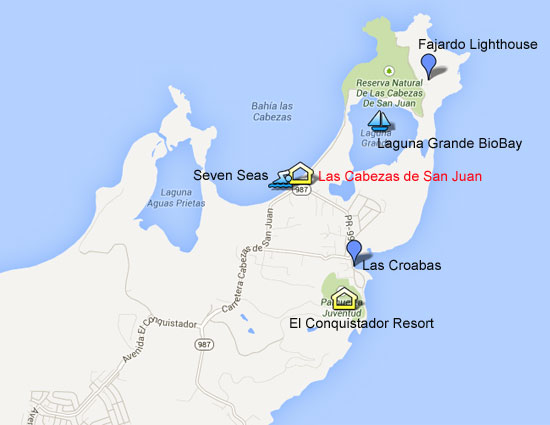 [Image: http://www.discoveringpuertorico.com/wp-content/lascabezas_map.jpg]
When it was time to kayak we started out in Las Croabas bay and then found the opening to the lagoon, which is a mile long river through the mangrove swamp. It was pretty darn dark in there. We had glow sticks on the bow and stern of the kayaks that gave off a little light, but that was all. The water in the lagoon was pretty incredible! Picture blue sparkles coming from around your hand when you dip it in the water. The lagoon is full of a plankton called Dinoflagellates, which, as a defense mechanism, glow blue when the water around them is disturbed. So whenever you stick your hand in the water, or your kayak paddle, or the fish under the water moved...BLUE! Very cool. (No pictures because it was too dark.)
The next day we drove about an hour west to Arecibo, home to the world's largest single aperture radio telescope. (Now that I look back on it, between the bioluminescent lagoon and giant telescope, it was kind of a nerdy trip. That's how we roll.)
The Arecibo observatory
has been used to map the surface of Venus and incoming asteroids, locate missing satellites, and find quasars and other cosmic objects far far away.
After visiting Arecibo, we went back towards San Juan and stopped at the Bacardi Distillery on the way. We took a tour and yes, there were free samples. No complaints there.
Lastly, we went into Old San Juan as the sun was setting and trekked through the streets in order to get up close to the old fort El Morro. On our way there we accidentally passed through a cat sanctuary and my husband made friends with a few of the residents and I attempted to take pictures in the dwindling light while simultaneously avoiding being rubbed on (I'm really allergic to cats.)


El Morro was beautifully lit up, and even though we couldn't go inside since it was after hours we could still walk all around the outside.
We ate dinner that night at an amazing restaurant called Marmalade, which I would highly, highly recommend and then that ended our trip since we were off to the airport the next day! (Although, it wasn't quite the end to our trip since our flight Monday got cancelled and we had to get one Tuesday. But whatevs.)
Now, for the horses. Unfortunately, we encountered all of these things while driving and were too slow to get any of my own pictures.

On our way to Farjado, I noticed a small ranch-type place on the side of the road with a big sign out front that said "Ponylandia." The creative naming here obviously intrigued me. We drove right by, never to experience Ponylandia ourselves, but judging from the Google it looks like a place where, essentially, one would rent a horse to ride around on for a little while.


In case anyone is interested, I found a 50% off coupon on what looks like a Groupon-type site:
"Pay $7 instead of $14 for 2 laps and enjoy Ponylandia @ Luquillo"
[Image: http://gozagoza.com/deals/pony/bypass/1]
So there's that.
The next day, as we were driving down the highway towards Arecibo, we passed an interesting horse trailer. The vehicle itself was traveling only around 55 mph, so we easily passed it. Good thing it was going fairly slow too, because it was essentially an open air stock trailer that didn't even have a front wall too it - so all the wind was blowing in the horse's face. The horse was tied facing forwards in the trailer and frankly it seemed pretty calm.
Not my pic, but it was kind of like this:
[Image: http://cienagacreekranch.files.wordpress.com/2013/01/p1040346.jpg]
After we got off the highway the road to the observatory was very rural; it was narrow, winding, and very hilly. We came around a corner at one point and right in front of us were two guys riding Paso Finos down the road.
A little further down the road we passed a horse tied on a long lead rope to a speed limit sign. The horse was enjoying the long grass on the side of the road. There was a house within sight down the road that I guess the horse probably belonged to, but it was just chilling for the time being.
Then on the way back down the same twisty-turny road, we came upon another "horse trailer" except there was no actual trailer involved. Instead, the horse was just loaded in the back of the pickup truck; the walls of the truck bed had some additional metal siding to contain the horse a bit better. I tried to get Dan to take a picture of this but I wasn't about to stop and stare and I did t slow the car enough so we just barely got the horse's butt.
Again, this one isn't my pic but it was like this:
[Image: http://www.horsenation.com/wp-content/uploads/2012/09/Horse-truck.jpg]
Finally, as we were nearing our hotel back in San Juan, I happened to look to my right as I was driving and noticed a horse cantering alongside the road, inside some sort of industrial park looking place. A hundred yards or so further down the road were two guys with a long rope stretched out between them. I presume they intended to catch the aforementioned loose horse. Frankly, I would have been quite interested in seeing how that worked out for them!
At first when I saw the horse in the open air stock trailer, I was admittedly a little taken aback ("That doesn't look very safe!") Seeing horses in these settings is certainly out of the norm for me, but it's a reminder that different people do things differently. And I got to thinking about the trailers...at least the open air one...I bet they had minimal difficulty loading that horse. We ask a lot of our horses to get into these dark, enclosed boxes... And in fact, neither the horse in the trailer or in the back of the truck looks the least bit nervous.
One more thing, completely unrelated to Puerto Rico: While I was Googling "horse in pickup truck" I found the most adorable Lego horse trailer. Where was this when I was a kid?
Want. But never load your horses into an unhitched trailer, kids.