I really do love giving gifts. Finding just the right thing for the right person is so satisfying. Sometimes, finding the right gift takes time though and is maybe even a little stressful. For the past couple years, me and my barn friends have chosen to do a Secret Santa - that way we all still get the joy of giving each other gifts, but it doesn't break the bank.
If you've got a barn Secret Santa or Yankee Swap coming up, here's a couple budget-friendly ideas to get you started.
And by the way, this post is part of a Holiday Blog Tour! Check out the links other blogs participating in the tour at the bottom of this post. I'll post more as more people join in!
$20 and Under from Homegoods or your local thrift store
For my barn friends and I, one of our favorite time-wasters is browsing Homegoods and finding all the horse-related decor. Hidden among the shelves are usually lots of equine sculptures of various shapes, sizes, and colors.
It can take some searching, but often times we can find some pretty neat stuff! One of my friends actually has a particular knack for it!
If you have a pal that loves decorating their home with equestrian flair, this could be a great gift choice.
Noble Outfitters Wine Down Hoof Pick

Rock in your horse's hoof? No worries, got my hoof pick right here...
Dressage test didn't go as planned? Chill out! Just grab the hoof pick and...ta da! Bottle opened!
Pairing two of the most useful tools ever -the hoof pick and the corkscrew; It's one of the most ridiculous, but at the same time brilliant, ideas ever. I'm a little obsessed with it.
Equestrian Print by SeeHorseDesign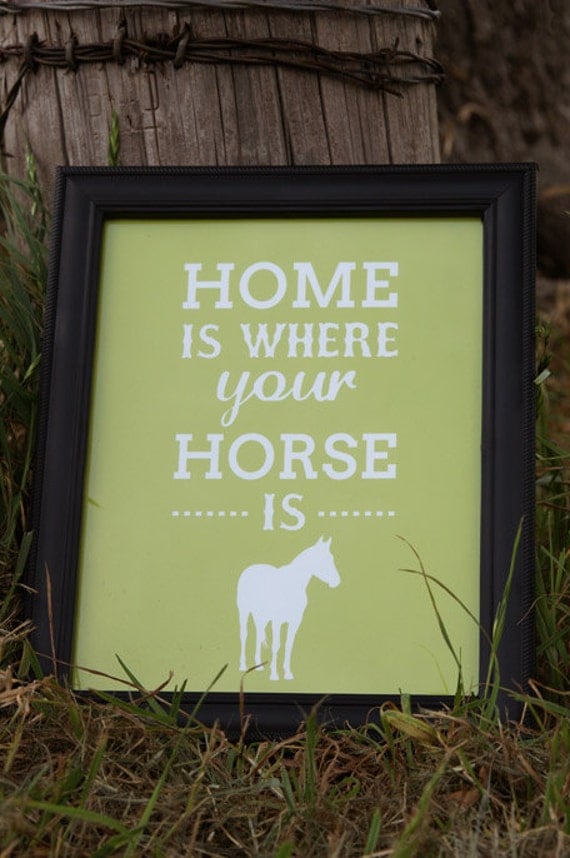 Lauren is a graphic designer and fellow equestrian blogger (visit her blog
here
!) I love her minimalist but eye-catching style. There are several different prints to choose from in the Etsy Shop, and the above "Home is Where your Horse is" is my favorite one.
Bonus: You can get your horsey Christmas cards from Lauren's shop too!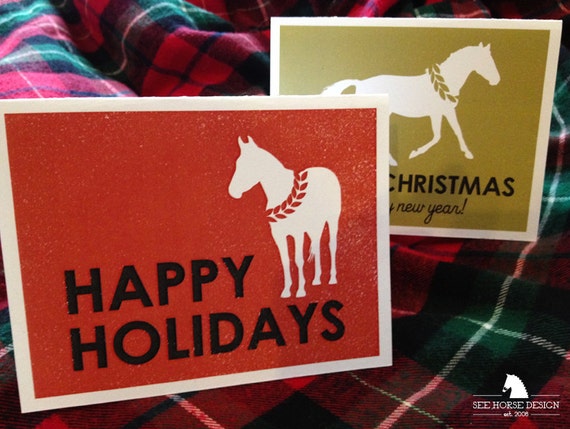 There are a number of Etsy Shops out there with jewelry made from horseshoe nails, but some of the most interesting designs (in my opinion) are from Wirestorm Creations. I've always thought jewlery made from actual horseshoe nails was a very cool thing, even though I happen to have barefoot horses! In addition to necklaces, there are also earrings and bracelets (the bracelets are more expensive, but are VERY cool.)
Dala Horse Figurines and Jewelry
You don't have to be of Scandinavian descent to appreciate the Dala Horse - these little ponies are simply adorable! The shop owner, Stacie, does fantastic craftsmanship of these tiny figurines and is great with custom orders as well. The paint job on the pendants are gorgeous and the earrings are tastefully sized. I had wedding cake toppers custom made by Stacie; I just supplied her with a photo of our wedding invitations so she could match our colors: green and orange.
Maybe someday I'll explain the significance of the goats...
Dark Horse Chocolates from Harbor Sweets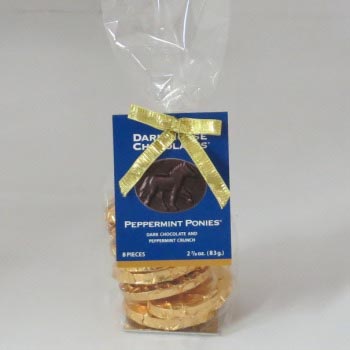 I've got to throw a little local love out to Harbor Sweets, a company based in Salem, MA (just a few towns south from me). Harbor Sweets chocolates are very New England - they started out with many nautically shaped chocolates - and now they have an equestrian themed collection as well. Some of the varieties include "Peanut Butter Sea Biscuits," "Dressage Classics" (a chocolate covered almond buttercrunch toffee), and "Peppermint Ponies" (which are my personal favorite.) Small bags of chocolates, like the one pictured above make perfect stocking stuffers.
There are also
Peanut Butter Ponies
: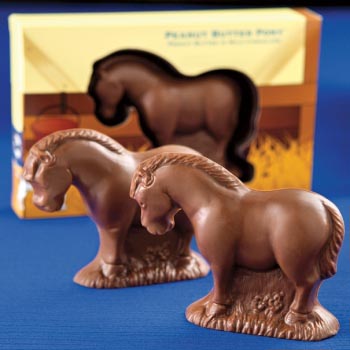 I would actually feel bad eating these, they are so cute!
And new this year, I believe, you can get a cute
"Treat Pouch"
filled with chocolate pieces. After you indulge in the chocolates you can use it for storing snacks for your horse.
The [Adult] Beverage Bucket
$14.00 - $20.00 from your local feed store and your local liquor store...
This is what I actually did for my Secret Santa last year.
Step 1:
Purchase an
8 quart Fortiflex utiliy bucket
in your friend's favorite color:
Step 2: Purchase a six pack of your friend's favorite beverage:
In my friend's case, this was the beverage of choice.
Step 3: Arrange beverages inside bucket, and some ribbon to decorate, and perhaps garnish with some chocolates to round out the $20 limit. Voila:
Variations: Choice of beverage may vary, obviously, but you can also vary the container that you use. Maybe your friend needs a new grooming bag or feed tub for their horse?
So I hope this list gives you some ideas to get your holiday gift giving started! Is there anything on this list that you're wishing for?
Holiday Blog Tour - Visit the other participating blogs!